I am sure that most of you visiting this most must have had issues getting approved into Adsense. So for all the newbie bloggers out there, Adsense is a monetization platform that provides the best rates for your traffic. Started in 2003, this platform has had a lot of publishers looking to acquire its service. In this post, I have got you some of the Best Google Adsense Alternatives.
Must Read: How to Get AdSense Account Approved for Blogspot
As years passed by, Google realised that many spam websites with insufficient content,websites promoting hatred or violence have all signed up into the platform. This resulted in stricter website approval processes, much to the dismay of many new bloggers out there.
But a twist, there are many networks out there who provide almost the same rates (or a little bit lower). So don't get upset, we have got it covered.
Must Read: How To Make Money With Your Blog 2019
Adsense Alternatives
Considering Infolinks for your blog?
Infolinks pay rate is better than programs like Chitika and can be a great alternative to AdSense, if used properly
Infolinks is primarily text based ad platform (though there are other formats released now) that helps you make money off ads without making your blog look messy or spoiling the user experience.
Another advantage of using Infolinks is, though being an excellent AdSense alternative, it is fully compatible with AdSense. You can run Infolinks side-by-side with AdSense without thinking twice of getting banned.
Sign up for Infolinks Today – Click Here
PopAds is one of the most well-known ad networks in today's affiliate marketing world, and this isn't just because their name perfectly matches affiliate keywords when they're searching for pop ads + buy + traffic.
They are one of the oldest ad networks around. It was established in 2010. Since then, it aims to keep the status of a premium, specialized popunder network. PopAds also has a reasonably wide inventory list and a broad range of available payment methods.
Ad types: exclusively pops (Popunder, Popup, Tabunder, Tabup)
Cost model(s): CPV (bid set for each pop)
Popads also has a very minimal payout option i.e $5 for Paypal which is amazing.
Signup For PopAds Today – Click Here
Publishers looking to generate more revenue are increasingly finding success with a self-serve platform with personal account managers for every need of the publishers.
They had focused their efforts on optimizing the utilization of your ad space, while ensuring meaningful links between the ads it displays and the content you produce. They have different monetization options such as Pop/ AdBlock Pop/ Direct Link/ Banner/ Shadowbox/ Desktop Interstitial etc. That means that your blog's ad space will not show ads that do not perform well, as RevenueHits uses advanced algorithms to research and examine the ways to place the ads with the goal of continually improving their performance.
Sign up for Revenue Hits Today – Click Here
Propeller Ads is a perfect solution for bloggers looking to monetize their blog or network of blogs. They offer various ad types:
PopUnder
Native Direct Ads
Interstitial mobile ads
Dialogue ads/Push up ads for mobile
Banner advertising for all standard size
Push notification ads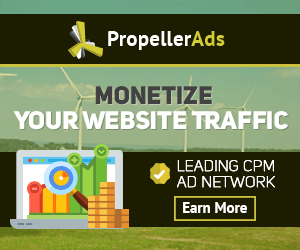 Depending on the type of blog/website you have, you can pick the right ad type to monetize your blog with Propeller Ads. I will walk you through the setup part also some tips to make the most out of this ad network.
Note: Propeller Ads is compatible with Google Adsense.
Sign up with Propeller Ads Today – Click Here
Must Read: How To Make Money With Your Blog 2019
Note: I haven't extensively used this network myself. Review is completely based on user ratings
Media.net is a leading ad tech company comprising of 800+ employees exclusively focused on developing innovative monetization products for digital publishers. By revenue, Media.net runs the #2 largest contextual ads program globally and work as the trusted advisor to top management across various large publishers.
Media.net Payment Rating: 5 out of 5.
Publisher's Share of Revenue: Unknown.
Payment Methods Available: Wire transfer or PayPal.
Payment Terms: Net-30.
Minimum Payout Threshold: $100.
Sign Up for Media.net – Click Here
Thats It For Now. I will update this post when I find other good networks.
Do let me know your choice of ad networks and also your experience with using other ad networks. Also, if you are an existing user with any of the above networks, share your review and feedback with the DiveToHunt community using the comment section below.
Must Read: Laying The Foundation Of Your Blog
How useful was this post?
Click on a star to rate it!
Average rating / 5. Vote count:
Fardeen Faisal is the Fountainhead and CEO of DiveToHunt, an award-winning blog that aims at helping people be their own boss. He had started blogging at the age of 9. He is a blog scientist, SEO Expert and an entrepreneur.